Web Browsing Shares by Operating System
Update: As of January 2013, Net Applications requires a subscription to access the raw numbers that are used below. Unless they reverse that policy change, this page wil not see further updates.
Net Applications provide monthly numbers on the market shares of different operating systems. They collect their data by analyzing log files from a number of web sites. Naturally, this means that it is not really market share that they are measuring, but the share of web browsing of different operating systems. But as long as you keep in mind what their methodology is, it does give you data that can be compared over time.
However, I was not completely happy with the way they grouped their results. Also, as they provie only one plot showing all the different operating systems, it is pretty much impossible to get a glimpse of what is happening in e.g. the handheld market as their shares are <1% while Windows has >90%. Because of this, I wrote a couple of scripts (that can be downloaded from the bottom of this page) to group and plot the results they way I wanted.
In June 2009, Net Applications changed the way they report their results. This new methodology is available from January 2008, so this page contains data from that point onwards. The older version (from January 2005 to May 2009) is available here.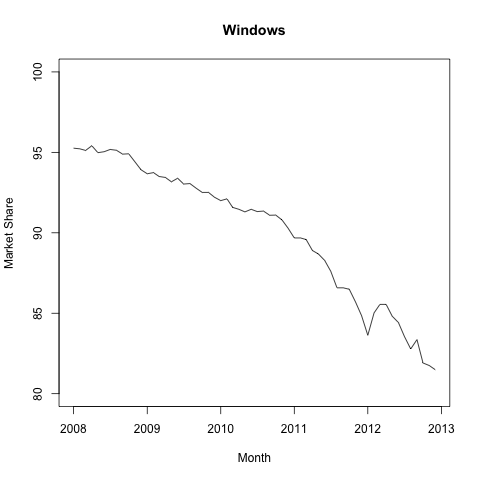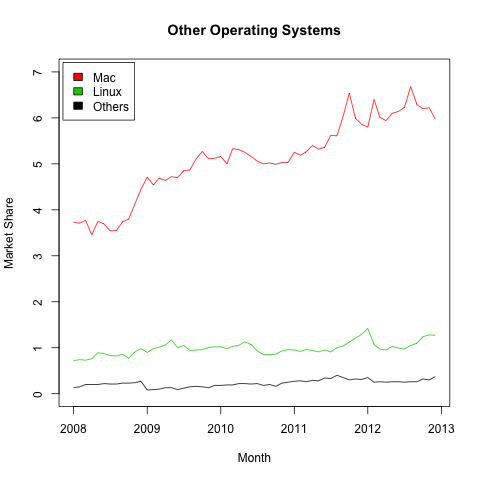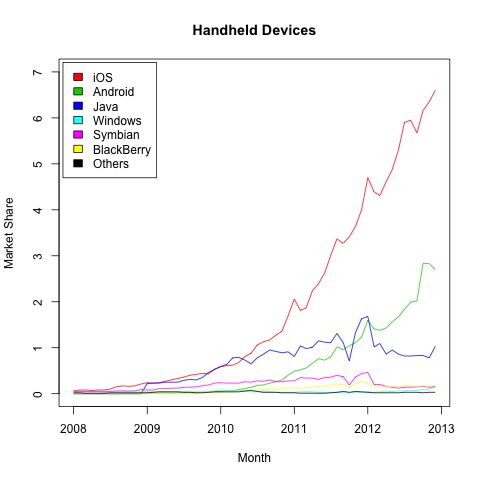 Downloads:
Processing script: group-browsing-shares.php
Data table: data.txt
Plotting function for R: plot-browsing-shares.R
Ilari Scheinin - firstname@lastname.fi
CC BY-ND